Casino Blog
Best Progressive Jackpot Slots 2021
- July 12, 2021 By Riley Wilson -
Progressive slots with jackpot trackers hold a special place in the online gambling scene. It's hard to stay indifferent when you read someone became a multi-millionaire through a progressive jackpot again. If there ever was a quick and clear path to realizing your dreams through gambling online, it's progressive jackpot slots.
As always, though, not all slots are created equal. We've been writing online slot reviews for years, and some games bubble up to the top. Below, you'll find a list of the best progressive online slots available in 2021.
Mega Moolah: Absoolutely Mad by Microgaming
At this point, Mega Moolah is easily one of the most recognizable brands in online casinos. The series has become one of the most sought-after slots in the world, progressive or otherwise. The best part is that you can play any entry into the franchise and get access to the same, massive pot.
The first thing to understand about Mega Moolah slots is that they're very focused. The progressive pot comes front-and-center, and everything else is secondary. The downside is that this means that the RTP in Mega Moolah games is often very poor. That's simply because a large part of every spin contributes towards the Mega Moolah jackpot.
Thanks to this, the pot often comes up to tens of millions. It's known as the millionaire-maker slot, after all. If you're looking to score a huge win in a single go, this is the way to go.
Divine Fortune by NetEnt
Compared to Mega Moolah, Divine Fortune is a lot more well-rounded. Sure, it's a progressive slot game online, and you can still win hundreds of thousands. However, even if you spend hours spinning and don't win any progressive payouts, it's still worthwhile. One of NetEnt's leading products, this game boasts a highly respectable RTP rate of 96.69%. That's pretty good even for a non-progressive slot, let alone a jackpot.
Of course, this comes with some drawbacks. Mainly, you'll never see Divine Fortune's jackpot tracker reach the insane multi-million sums of Mega Moolah. It rarely makes it over a few hundred thousand before someone snaps up the Mega Jackpot. Still, that's more than a tidy sum. Besides, you can rest easy knowing that you're lining your pockets with a steady income whether you win the pot or not.
Age of the Gods – God of Storms by Playtech
Age of the Gods is another online casino heavy-hitter franchise. So far, Playtech has released almost two dozen entries to this series, and they have no intention of stopping. Much like Mega Moolah, most of these share a common pot called the Ultimate Power Jackpot. This means that there's a lot of players spinning a lot of games at all times. The Age of the Gods progressive jackpot constantly ebbs and flows, which just adds to the excitement.
Unlike Mega Moolah, though, Age of the Gods is not just about the pot. It's an excellent all-around slot and you can have plenty of fun and win a lot of cash without triggering any progressive features. We've chosen God of Storms slots to represent this franchise, but you can't go wrong with any of the other entries either. Age of the Gods slot games can get fairly complex and feature-heavy, but God of Storms keeps things on the lighter side. Still, there are Wilds, multipliers, free respins, and plenty of other features to keep you coming back for more.
Mega Fortune by NetEnt
So are slots with progressive jackpots always a balancing act between big pots and RTPs? Can't you have a shot at becoming a millionaire without compromising long-term profitability?
You bet you can, if you know which progressive slot game to play. Enter Mega Fortune, another industry legend and one of our favorites here at CasinoDirectory. In many ways, Mega Fortune is the spiritual predecessor of NetEnt's latter Divine Fortune. It's been around since 2009, and has made plenty of millionaires since. This title doesn't shy away from what it is – thematically, it's all about the wealth and opulence it promises to bring.
Being a fairly old release, Mega Fortune keeps it simple. It's a 5-reel slot with low variance and only the most barebones of extra features. However, the 96% RTP is hard to say no to – especially when paired with a multi-million progressive jackpot.
Kingdoms Rise: Reign of Ice by Playtech
The Kingdoms Rise series by Playtech never quite reached the heights of success and popularity that Age of the Gods did. It has some of the same ideas – like a fantasy setting with multiple games sharing a single progressive pot. Kingdoms Rise games can get fairly intricate as far as slots with progressive features go, though.
Again, we've chosen 2019's Reign of Ice as a representative, but any of these games follow a similar pattern. Specifically, they pack a lot of wilds, respins you can "buy" in the optional shop, and multipliers. However, the jackpot itself is quite unique. Firstly, it's not completely random. Instead, slot jackpot wins are handed out once certain milestones are reached. For example, the Daily Strike can only be won once a day. The Power Strike only triggers once a certain amount is reached, and so on.
If you're looking to play progressive slots but want something a bit outside the box, the Kingdoms Rise series is perfect.
YOU MIGHT BE ALSO BE INTERESTED IN THESE:
LATEST NEWS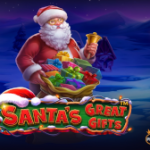 Get Ready for Christmas With Santas Great Gifts by Pragmatic Play [...]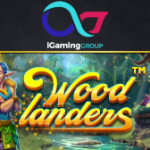 Explore a Fairy Forest in the Woodlanders Slot by Betsoft [...]
NetEnt Launches Superstars Slot With Crossover Characters [...]
POPULAR PAGES VISITED BY OUR READERS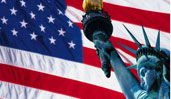 BEST US CASINOS
BACK TO TOP